When it comes to the workplace, culture is everything. It's the set of values, beliefs, behaviors, and attitudes that characterize a company and its employees. A strong culture can be a major differentiator in attracting and retaining the best talent. It can also lead to increased productivity, better customer satisfaction, and higher profits.
Here are a few things that SecurDI does to foster a healthy culture:
Establish clear values
Some of the values that we have established include:
Integrity
Accountability
Excellence
Quality
Diversity
Time
These values guide everything that we do at SecurDI, and we are always working to uphold them. We believe that by doing so, we are providing the best possible service to our clients and employees.
Communicate openly and frequently
Open communication is key in any organisation in order to maintain a cohesive and efficient work environment. SecurDI has fostered open and transparent communication, starting with our Jr Analysts communicating with their mentors on a regular basis to talking about anything other than work on Fun Fridays. This creates a professional yet relaxed atmosphere where employees can feel comfortable to deliver their best work
Respect each other's space
When it comes to interacting with others, we at SecurDI always respect each other's personal space and boundaries. We make sure that all communication happens over Google Chat, respecting each other's privacy. This way, we can ensure that everyone feels comfortable and respected in our community. Employees are not distributed during the times they have designated on their calendars for lunch and focused time.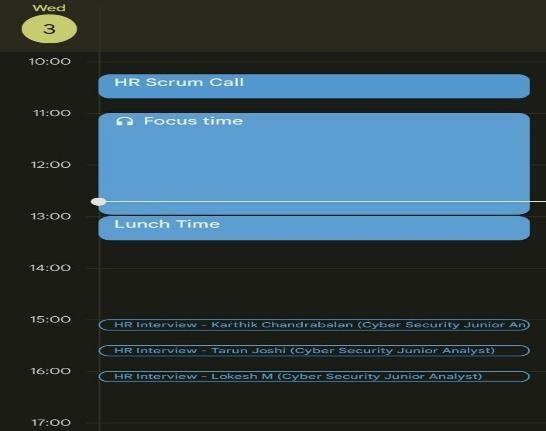 Encourage and celebrate diversities
The world is a beautiful and diverse place. At SecurDI, we believe that diversity should be celebrated and encouraged. We create an inclusive environment where everyone feels comfortable and respected. At SecurDI, we have employees from all over India who add a perfect fusion of cultures, perspectives, ideas, and thoughts to our company. Here, we celebrate every holiday with the same fervor and excitement while exchanging greetings and good vibes.
Promote a healthy lifestyle
All of us know the benefits of yoga and how it helps in keeping our mind and body healthy. One of our employees, Akshat who is a part of "Art of living" taught us some simple yoga poses which we could do even while working. It was a great session and we all felt very relaxed and rejuvenated after the session.
This is just one example of how SecurDI promotes a healthy lifestyle. We also have regular health check-ups for all our employees and provide them with the necessary health insurance. If you're looking for a company that supports and encourages a healthy lifestyle, look no further than SecurDI. We're always looking for ways to promote health and wellness among our employees.
Encourage employees to take time off
SecurDI recognizes that burnout is a real problem for employees and encourages them to take time off to prevent it. That way, they can come back to work feeling refreshed and ready to be productive.
By taking steps to intentionally foster a healthy culture, you can reap a world of benefits for your company.